I missed out on So what Wednesday yesterday because I was beaching it up with the kids. I'm uploading pictures and then will post tomorrow!
Here we go!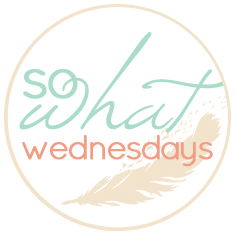 On this Thursday I'm saying so what if ...
... It's 2:20pm and I'm starving. I started the 10 day challenge with clean eating and shakeology. I know it'll get better but oh my gosh, give me food!!!
... it's taken me 29 years to realize I
need
to have a daily schedule with reminders and lists to function properly.
... I really like back to school shopping. I bought more crayons, markers and spiral binders. It just makes me so happy.
... I'm really looking forward to Monday. Yes, to watch the Bachelorette. Poor Des, that was seriously heart breaking watching her and Brooks talk. I don't even know what in the world is going to happen on the Finale.
... we are wearing jammies all day, it makes for a faster bed time routine! haha.
That's all I've got. My brain is mush. I just want to nap and I have 2 loads of clothes that I
have
to do today. Time to get moving.