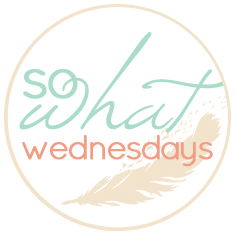 This week I'm saying, SO what if ...
...it's 10am and we are all still in jammies, watching wayyy to much TV. I'm pretty sure we'll be in jammies all day, we have nothing to do today. Why get dressed?
... I'm feeling really mushy seeing all these pictures of the royal baby. I miss the squish!!
... I have clothes in the washer and dryer. I don't really want to deal with either.
... it's Wednesday and I'm already ready for it to be Friday. Girls day and this momma is counting down and ready to take a break! 52 hours and counting.
... my son is a little dare devil. He's standing and climbing on everything,
everything
!! He's figured out if he puts another toy near the couch he can climb up onto the couch.
... he got that from Allyson. She's always jumping and bouncing on the couch and her bed. It's seriously become a lost cause in getting her to stop. Conrad hates it.
... I can't wait for Austin to nap. I might try to take a nap too. Or
finally
watch the Bachelorette. I can't believe the finale is coming up. I really hope she doesn't pick Brooks.
Time to get the ball rolling on today. Hopefully getting around to posting Austin's 16 month update.
I hope you all have a great week!